Virgo Keywords





Virgo is an earth sign...

Commonly symbolized
by a "Virgin"
with a shaft of
grain in her arms.

This sign and Gemini
share a common
"Ruling" planet.
Mercury, the planet
of connection and
communication.

As you read through
you will see the
similarities.

For an example,
Mercury as the planet
of connecting one thing,
or person, to another,
is often an agent
of one kind or another.

Both Virgo and
Gemini are
signs connected
with agents.

The colors are gray
and navy blue

This sign is known to be
very analytical,
discriminating,
and yes critical,
in fact they do often
make great
professional critics.

Details are one of
this sign's talents.
Writing is often another.

Or it can be the eye
for detail
that makes a good golfer,
(for an example)


Or maybe pool player.
You see what I mean.

Service is a natural.
Virgos have a certain
sense of their
own order.

Others might
or might not
see it


but everything
has its place.

While Virgo is mostly
known
for its neat and
well organized nature,
it is a dualist
sign and thus
can have a totally
opposite side.

For instance,
walk into a Virgo's room,
this one is not neat,
at first glance,
but look closer.
See that pile of papers
there in front of you,
no, not that one,
and not that other one either,
but that one over there
behind the one in
back of the other one.
Yes that one.
Now, look at it closely.
It has its own order about it.
Ask the Virgo.
They can almost tell you
what is in each
position in each pile.
Really.
Actually its organization
is quite practical.
That is one reason that
they are so good
at what they do.

God, Virgo's get tired
of being told how
practical they are, I am sure.

(probably prefer
to be told how sexy they are
....well they sure can be!)

Well good news for Virgos
that are tired of it,
sometimes
they are exactly the opposite.

What ever you hear
about this sign,
remember,
it is a dual natured sign.

Some Virgos are
one way.......
say a bit "Virginish"
(and most Virgo types
would hate my
making up
words like that)
while other Virgos
are very sensual.
Virgo is after all
an Earth sign and
the earth is physical.

Some are neat and
organized.........
some are sloppy,
but might
still have an
organization system
of their own, or maybe not

Or, they might be
a mess at home,
but very organized
in their professional life.

Sometimes self effacing,
or quiet
and kind of shy seeming.

They can be talkers too.......
get them going on
something they are
really excited about....

like plants,
and how to grow them
Health items, vitamins,
herbs, or where ever
their head is on the
subject at the moment,
because they
are always learning more.


Abdomen
Bowels
Spleen
Intestines

Medicine
Nutrition.

Hypochondria


Animals are another
Virgo thing, lots
of Virgo people in the
animal products
and services fields.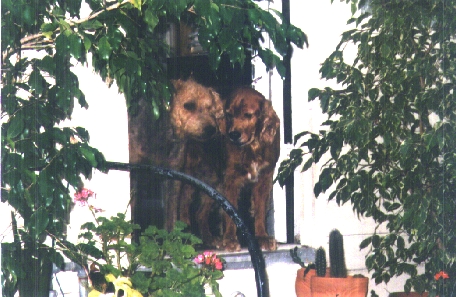 speaking of pets meet
Chloe and Beau
all the greenery around
them is Virgo like too.......

To heal a Virgo take
it someplace
beautiful in nature.

Sometimes Virgo
can get to be
a bit over concerned
with their health,
but then sometimes
their health requires
that of them.

Routine is good for Virgo.

Great mechanics,
so good at fixing
what is broken.

They usually are happy
to be of service.
Even if they
complain about it.
Service professions
Receptionist
Secretary
Postal Service
Bus driver
Psychologist
Psychiatrist

Interpreter
Translator

Radio, TV announcer

Teachers and Professors

Retail shop-keeper
Clerk
Typist
Book-keeper
Statistician
Librarian
Bank clerk

Nursing
Medical practice and research

Agricultural
Animal care and breeding
Craftsmanship
Educational institutions
Teaching
Inspectors
Engineering
Research
Mathematics
Maps
Menus
Crafts

Fertile land
Gardens

Writers
Books
Collectors
Libraries
Restaurants

Book-cases
File cabinets
Organizers
Store rooms

Servants
Grooms

Animal breeders
and showers

Hospitals
Educational institutions

Public health
health in general and all
health related callings
and things
connects to health.

Sewing
Weaving
Needlework





Virgo is a mental sign, with a mind
that is on the go all the time.

Good with words,
both written and spoken.

And talk about inventive,
with the kind of mind that
can develop an idea,
build it, and market it.

Computers are ideal for Virgo!
They can make
great programmers,
or just naturally be drawn to
jobs and professions that
are heavily involved with
computers.

Great with design,
after all they do
have a eye for detail.

As an earth sign Virgo
can be quite sensual.

Did you know
Sophia Loren is a Virgo?

And oh yes.........lists.....
in one way or another
Virgo makes lists

To do lists
To buy lists
To remember lists

Lists as in tables
and grafts
and analysis
and keywords

Did I say keywords.
....hmmmm well,
I do have the ruler
of my ascendant,
and my sun,
in Virgo,
which makes
Virgo rather strong
in my chart. But then
I have something
in almost every sign.

"I ANALYZE"